Our Sales Director gave an interview to European Business, a European business magazine. In this article, Guillaume Garnier was asked about the safety solutions proposed by our company.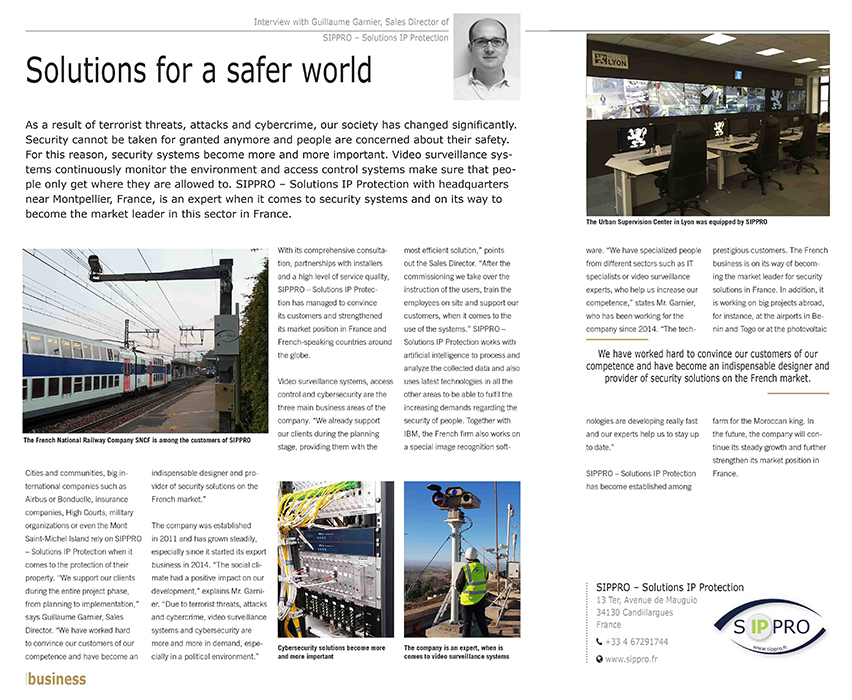 As a result of terrorist threats, attacks and cybercrime, our society has changed considerably. Security can no longer be taken for granted and people are concerned about their safety. That is why security systems are becoming increasingly important. Video surveillance systems constantly monitor the environment and access control systems ensure that people only arrive where they are authorized.
Cities and towns, large international companies such as Airbus or Bonduelle, insurance companies, regional courts, military organisations and even the island of Mont Saint Michel trust SIPPRO to protect their property.
We accompany our customers throughout the entire project phase, from planning to implementation.
"We have worked hard to convince our customers of our competence and have become an indispensable designer and supplier of security solutions on the French market."
The company was created in 2011 and has been growing steadily, especially since the start of its export activities in 2014. "The social climate has had a positive impact on our development," explains Mr. Garnier. "Due to terrorist threats, attacks and cybercrime, video surveillance and cybersecurity systems are increasingly in demand, especially in a political environment."
Thanks to comprehensive advice, partnerships with installers and a high level of service quality, SIPPRO has succeeded in convincing its customers and strengthening its market position in France and French-speaking countries around the world.
Video surveillance systems, access control and cybersecurity are the three main areas of activity of the company. "We accompany our customers right from the planning phase and provide them with the most effective solution," says the sales director. "After commissioning, we take over user instructions, train staff on site and support our customers in the use of the system".
SIPPRO works with artificial intelligence to process and analyse the data collected and also uses the latest technology in all other areas to meet the growing demands for personal safety. In collaboration with IBM, the French company is also working on special image recognition software.
"We have specialists from different sectors, such as computer scientists or video surveillance experts, who help us increase our skills," says Mr. Garnier, who has been with the company since 2014.
"Technology changes very quickly and our experts help us stay up to date."
SIPPRO has established itself among a prestigious clientele. The French company is on its way to becoming the market leader in security solutions in France. In addition, it is working on major projects abroad, for example in the airports of Benin and Togo and on a photovoltaic farm for the Moroccan King. In the future, the company will continue its steady growth and further strengthen its position on the French market.